Trusted Since 1977
Providing High-Quality Residential & Commercial Services
Schedule Service
Heating & Air Conditioning Repair in Heath, Ohio
When an AC or heating system fails to keep a home or business comfortable, Accurate Heating, Cooling & Plumbing is the company to call. Our experienced team is dedicated to providing the most dependable heating and air conditioning repair in Heath, Ohio.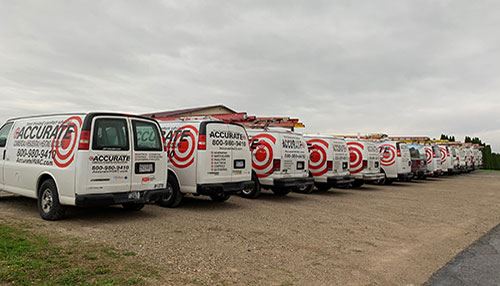 Don't settle for less than the best for your residential or commercial property. Call (614) 820-8279 or contact us online to get your AC or heating issues resolved quickly and correctly.
Signs It's Time to Call for Heating & AC Repair
Heating and AC repair are never one of those services a home or business owner should put off. Although it can be tempting to ignore issues when the system is still "running" and there's not really a place in the budget for repairs, doing so risks an emergency breakdown and even the need for premature replacement.
Common signs that a heating or AC system needs to be repaired include:
The unit struggles to maintain consistent temperatures
The cost to cool or heat the property is too high
The system cycles on and off too frequently
Strange noises or foul odors are coming from the unit
Moisture accumulation is present in strange places
Airflow has diminished significantly or completely
The temperature varies from room to room
It's important to accurately identify the nature of the problem before performing repairs. When Accurate Heating, Cooling & Plumbing is on the job, home and business owners can be confident we'll provide a correct diagnosis of the issue and advise on the best method of repair.
Why Is My Furnace Blowing Cold Air?
As a furnace works hard to keep a home warm during the winter, it may reach a point where it fails to produce warm air. Cold air blowing from vents can result from simple issues such as incorrect thermostat settings or inadequate warm-up time. The furnace should be set to AUTO and given several minutes to begin heating the air. If there's still no warm air after 15 minutes, there is likely something wrong with the unit. A lack of warm air is often due to clogged air filters, non-operational pilot lights, dirt buildup, leaky air ducts, clogged condensate lines, or faulty thermostats.
Instead of being stressed about what to do next to handle a broken AC or furnace, reach out to the experienced team at Accurate Heating, Cooling & Plumbing. We are experts in repairing all types of heating and AC equipment.
We've been helping Ohioans stay comfortable since 1977. Call Accurate Heating, Cooling & Plumbing at (614) 820-8279 today for reliable heating and air conditioning repair in Heath.
How to Know if an AC Compressor Is Bad
One major problem that occurs with an air conditioning system is compressor failure. This vital component exists in the outdoor unit and is the heart of the AC. It is responsible for the circulation of refrigerant throughout the system. When the compressor ceases to operate properly, the refrigerant will stop flowing through the AC, resulting in warm air coming through the vents.
Bad AC compressors can cause several additional problems, including:
Reduced airflow coming through the registers
The outdoor unit shudders and shakes when it turns on
The AC's circuit breaker keeps tripping
Clicking, ticking, or rattling sounds are coming from the unit
Puddles or moisture are around any part of the system
When any of these issues are present, it could be due to a broken compressor. It's crucial to take immediate action so no further damage results. Our professionals are standing by to help!
Heath, Ohio Water Heater Services
Conventional Water Heaters
Tankless Water Heaters
Emergency Service Available
Heath, Ohio Plumbing Services
Backflow Prevention
Plumbing
Expert Plumbers
Commercial Plumbing
Emergency Repairs
Bathroom Plumbing
Gas Line Repairs
Emergency Plumbing
Garbage Disposals
Kitchens
Leak Detection
Plumbing Repair
Plumbing Maintenance
Sewer and Drain Cleaning
Slab Leaks
Water leaks
Sump Pump
Drain Cleaning
Faucets, Toilets & Fixtures
Water Softener Systems
Video Inspection
Septic System Repairs
24 Hours Service Call: (614) 820-8279
Heath, Ohio Heating Services:
Heating Installation
24/7 Emergency Service
Emergency Furnace Service
Furnace Repair
Heating and Furnace Maintenance
Boiler
Heat Pump
Oil Furnaces
Commercial Furnace Repair
Garage Heaters
Geothermal
WiFi Thermostats
Geothermal
Radiant Floor Heating
Furnace Maintenance
Ductwork
New Furnace Installation
High Efficiency Furnace
Air Conditioning Services in Heath, Ohio
Air Conditioning Installation
Air Conditioning Repair
Commercial HVAC Services
Central Air Repair
HVAC Replacement
New Construction HVAC
AC Tune Ups
Emergency Service
Ductless Mini Split
AC Repair
Maintenance Agreements
VRF Systems
The Team to Trust
WHY CHOOSE US?
Multi-Disciplines

Sales & Service
HVAC & Plumbing
Residential & Commercial

We Make It Right

We believe in delivering honest value and ensuring customer satisfaction.

Integrity

Christian faith-based company aiming to operate ethically and above reproach.