Trusted Since 1977
Providing High-Quality Residential & Commercial Services
Schedule Service
Pataskala Heating & Air Conditioning Repair
Living or working in Ohio means that you need to be prepared for extreme temperatures in both directions of the thermostat. If a property's heating or cooling system is not working properly, it is going to need reliable repairs. Our techs at Accurate Heating, Cooling & Plumbing are devoted to providing the care residents need. Our team offers quality heating and air conditioning repair in Pataskala and the surrounding areas.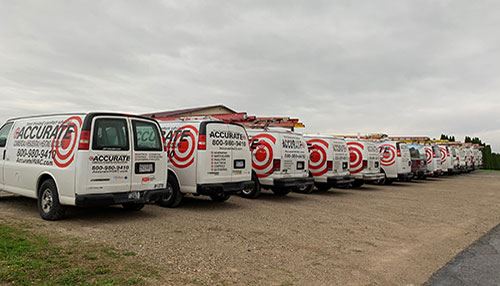 For more details about our services, call our HVAC specialists today at (614) 820-8279 or contact our team online.
Signs That a Heater Needs to Be Repaired
The cold temperatures that occur during the winter, late fall, or early spring can be intense. Because you can be extremely uncomfortable without a reliable heater. it is important to keep a close eye out for signs of failure.
A few of the most common signs of a malfunctioning heater include:
A lack of airflow emerging from the vents
Bad odors of burning dust or plastic
Cold air instead of warm air coming from vents
Frozen air vents or evaporator coils
Uneven distribution of warmth in different parts of the room
Loud, repetitive banging, rattling, or crackling noises
Why Is My HVAC Unit Freezing Over?
If an HVAC system is displaying frost along the vents, people may assume that the thermostat is simply set at too low of a temperature. The real reason, however, is that the air filter is likely clogged with dirt or dust. When airflow is restricted by these particles, the coils often freeze over. This condition can lead to other parts malfunctioning as well, which is why it is important to speak to a technician as soon as possible.
Types of Air Conditioning Problems
Some of the kinds of problems that an air conditioner might suffer have to do with the age of the unit. After several years, parts like the compressor or capacitor may fail because they have been used so often. If an air conditioner is over 10 years old, it is likely going to experience trouble. The more it is used, the shorter its lifespan will be.
An even bigger contributor to a faulty AC is a lack of maintenance. If even the smallest particles of dirt get caught in the sensitive parts of the thermostat or evaporator coils, the system will start to malfunction. Heating and air conditioner systems should usually be serviced twice a year to help avoid these issues. For dedicated help with any malfunctioning HVAC system, get in touch with our team at Accurate Heating, Cooling & Plumbing.
Call us now at (614) 820-8279 to schedule your heating and air conditioning repair in Pataskala, Ohio.
Pataskala, Ohio Water Heater Services
Conventional Water Heaters
Tankless Water Heaters
Emergency Service Available
Pataskala, Ohio Plumbing Services
Backflow Prevention
Plumbing
Expert Plumbers
Commercial Plumbing
Emergency Repairs
Bathroom Plumbing
Gas Line Repairs
Emergency Plumbing
Garbage Disposals
Kitchens
Leak Detection
Plumbing Repair
Plumbing Maintenance
Sewer and Drain Cleaning
Slab Leaks
Water leaks
Sump Pump
Drain Cleaning
Faucets, Toilets & Fixtures
Water Softener Systems
Video Inspection
Septic System Repairs
24 Hours Service Call: (614) 820-8279
Pataskala, Ohio Heating Services:
Heating Installation
24/7 Emergency Service
Emergency Furnace Service
Furnace Repair
Heating and Furnace Maintenance
Boiler
Heat Pump
Oil Furnaces
Commercial Furnace Repair
Garage Heaters
Geothermal
WiFi Thermostats
Geothermal
Radiant Floor Heating
Furnace Maintenance
Ductwork
New Furnace Installation
High Efficiency Furnace
Air Conditioning Services in Pataskala, Ohio
Air Conditioning Installation
Air Conditioning Repair
Commercial HVAC Services
Central Air Repair
HVAC Replacement
New Construction HVAC
AC Tune Ups
Emergency Service
Ductless Mini Split
AC Repair
Maintenance Agreements
VRF Systems
The Team to Trust
WHY CHOOSE US?
Multi-Disciplines

Sales & Service
HVAC & Plumbing
Residential & Commercial

We Make It Right

We believe in delivering honest value and ensuring customer satisfaction.

Integrity

Christian faith-based company aiming to operate ethically and above reproach.