Trusted Since 1977
Providing High-Quality Residential & Commercial Services
Schedule Service
Heating & Air Conditioning Repair in Newark, Ohio
Searching for fast and reliable heating and air conditioning repair in Newark, Ohio? Look no further than Accurate Heating, Cooling & Plumbing. We're available 24/7 to provide rapid solutions for heating and cooling emergencies. As a Bryant Authorized Dealer, we specialize in repairing Bryant equipment but we can also handle repairs for other brands as well.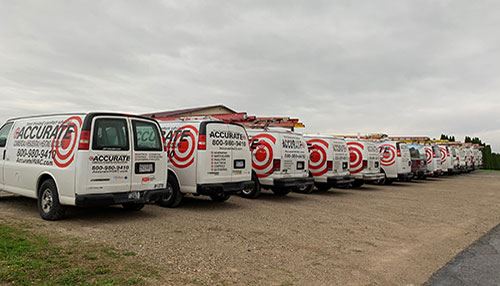 We focus on delivering high-quality workmanship and outstanding customer service. Call (614) 820-8279 today to benefit from working with a team that's been around since 1977.
When Does a Heater or Air Conditioner Need Repairs?
Modern heating and air conditioning equipment is designed to last for 10 to 15 years before needing to be replaced. However, this doesn't mean that these systems will be problem-free until that point - especially when heating and cooling units are not properly maintained. In most cases, the best way to deal with the issue will be to repair it.
Call (614) 820-8279 or contact us online for a free estimate on heating and air conditioning repair in Newark, Ohio.
There are several signs that a heater or AC is due for repair, including:
Hot and cold spots throughout the property
Squealing, grinding, banging, or other strange noises
Foul odors when the heating or AC is turned on
The system turns off and on in short intervals (short-cycling)
The unit is blowing, but the air is not at the right temperature
Humidity issues
Leaking close to the heating or AC unit
It's more expensive than usual to operate the heater or AC
Noticing the signs of malfunctioning HVAC equipment is not difficult – determining the source of the issues is. With a company like Accurate Heating, Cooling & Plumbing, there's no need to worry about inaccurately diagnosing an HVAC problem. Our highly trained techs are experts at ascertaining the exact nature of the issue and determining the best solutions.
Why Is My AC Running but Not Cooling?
It can be frustrating to turn on an air conditioner and feel warm air coming from the vents. Sometimes this issue is the result of having the thermostat set to ON instead of AUTO. When the ON option is selected, a fan can continue to operate while the AC is off, resulting in a flow of air through the ductwork that has not been cooled. In other cases, a faulty component within the system could be causing the AC to not be cooling.
Potential causes of an AC not blowing cool air include:
Leaky ductwork
Dirty condenser unit
Clogged condensate line
Malfunctioning compressor
Low refrigerant levels
Obstructed outdoor unit
With so many possible reasons, it's important to rely on a skilled professional who can locate the cause and provide the right repair. Accurate repairs are essential for restoring comfort to a home and extending the lifespan of the equipment.
Accurate Heating, Cooling & Plumbing's expert technicians have the knowledge and expertise to fix any heating and cooling issue you're facing.
Newark, Ohio Water Heater Services
Conventional Water Heaters
Emergency Service Available
Backflow Prevention
Plumbing
Expert Plumbers
Commercial Plumbing
Emergency Repairs
Bathroom Plumbing
Gas Line Repairs
Emergency Plumbing
Garbage Disposals
Kitchens
Leak Detection
Plumbing Repair
Plumbing Maintenance
Drain Cleaning
Slab Leaks
Water leaks
Sump Pump
Drain Cleaning
Faucets, Toilets & Fixtures
Water Softener Systems
Video Inspection
Septic System Repairs
24 Hours Service Call: (614) 820-8279
Newark, Ohio Heating Services:
Heating Installation
24/7 Emergency Service
Emergency Furnace Service
Heating and Furnace Maintenance
Boiler
Oil Furnaces
Commercial Furnace Repair
Garage Heaters
Radiant Floor Heating
Furnace Maintenance
Ductwork
New Furnace Installation
High Efficiency Furnace
Air Conditioning Services in Newark, Ohio
Air Conditioning Installation
Air Conditioning Repair
Commercial HVAC Services
Central Air Repair
HVAC Replacement
New Construction HVAC
AC Tune Ups
Emergency Service
AC Repair
Maintenance Agreements
VRF Systems
The Team to Trust
WHY CHOOSE US?
Multi-Disciplines

Sales & Service
HVAC & Plumbing
Residential & Commercial

We Make It Right

We believe in delivering honest value and ensuring customer satisfaction.

Integrity

Christian faith-based company aiming to operate ethically and above reproach.