Trusted Since 1977
Providing High-Quality Residential & Commercial Services
Schedule Service
Accurate is committed to building the talent in the industry and providing a career for those who are ready to make a commitment and find a great future.
Accurate Mechanical provides a wide variety of opportunities with Sales, Service, Installation within our HVAC, Plumbing and Mechanical Divisions. We hire those experienced in the trades as well as offer training through our Apprenticeship programs and entry level work experience. With over 45 years in the industry, we have consistently grown with such partners as Bryant, Carrier, Waterfurnace, as well as Generac, to name a few. With a consistent growth plan, we hold tight to the important matters of integrity, honesty and doing it right. Our teams serve residential and commercial customers throughout Central and South Ohio. Come be a part of the family serving local communities as a trusted comfort advisor. We provide excellent benefits, regular training and education and would love to talk to you about your future career objectives.
Employee Benefits
401(k) with company match. (eligible upon hire)
Health, vision, dental, disability, and life insurance (first of the month following 30 days of employment)
Employee assistance program.
Paid Time Off.
Safety incentive program.
Tool allowance program.
Boot program($100 per year towards the purchase of safety shoes)
COMPANY PAID APPRENTICESHIP PROGRAM!
We offer a 4-year, state approved apprenticeship program
Program supports both HVAC and Plumbing trades
Classroom and online options! Learn at your pace and on a schedule that works for you
Supplemented with lab and on the job training.
Contact us to learn more.
Below are summary job descriptions for our field staff. These are not all inclusive but are meant to provide a general understanding of the opportunities available with Accurate Mechanical.
PLUMBING DIVISION
Plumbing Installer/helper
Assemble, install, alter, and repair pipelines or pipe systems that carry water, steam, air, or other liquids or gases.
May install heating and cooling equipment and mechanical control systems. Includes plumbing fixtures and equipment.
Service Plumber:
General Knowledge of how to install /repair the following: Water closet, Lavatories, Urinals, Bathtubs, Showers, All faucets, Hose bibs, Water coolers, Flush valves, Water heaters, Sump-pumps & Back-up pumps, Lift stations. Commercial experience in these areas are also a plus.
Main soil/Waste stack install. Knowledge of how to pressure test as needed for inspections.
Knowledge of Gas service line/ Water service line installation plus testing & inspecting procedures.
Wells / Pressure tanks repair/ replacement experience.
Softner system repair/ replacement experience is helpful.
Any Gas, Backflow, Plumbing license is a plus but not necessary.
Commercial Plumbing Install
Ground up Installation of all types of plumbing system per Plans and Specifications on large and small projects.
Drain waste and venting (DWV) all types of piping.
Domestic Water piping all types of piping.
Gas piping all types of piping.
Compressed Air piping.
Medical Gas piping.
Installation of plumbing equipment and plumbing fixtures.
Commercial and industrial fixtures.
Institutional fixtures.
Water heaters, Boilers, and Air compressors are some of the types of equipment installations.
Medical gas Equipment.
Company paid Apprenticeship Program.
Upon 90-day probationary period.
4-year program with incremental raises upon completion of schoolwork and on the job training milestones.
Career preparation for the plumbing industry with out the student loan costs.

Sales
Evaluate customer current systems
Compare current systems to best high efficiency systems
Recommend and Propose options based on Customer needs and ROI benefits.
Create a clearly defined sales plan to grow commercial customer base including prospect list, sales schedules, and sales tracking templates.
Responsible for generating your own leads.
Review and research existing or prior clients through current database to generate additional sales.
Acquire new customers through cold calling and making outside sales calls on a consistent basis.
Analyze competitive products and selling techniques. Identify and implement tools and resources to assist in sales efforts (energy rebates).
Maintain contact with major accounts within territory.
MECHANICAL DIVISION
Commercial HVAC Service Technician
Clean and maintain Commercial HVACR systems.
Inspect and test HVACR systems and components.
Discuss system malfunctions with customers.
Repair or replace worn or defective parts.
Recommend maintenance agreements to improve system performance.
Residential HVAC Service Technician
Clean and maintain Residential HVAC systems.
Inspect and test HVAC systems and components.
Discuss system malfunctions with customers.
Repair or replace worn or defective parts.
Recommend service agreements to improve system performance.
Commercial HVAC Installer
Install new and replacement commercial HVACR systems.
Install electrical components and wiring.
Install ductwork.
Operate tools and equipment safely.
Commercial Sheet Metal Installer/helper
Select types of sheet metal according to plans.
Measure and mark dimensions and reference lines on metal sheets.
Drill holes in metal for screws, bolts, and rivets.
Install metal sheets with supportive frameworks.
Fabricate or alter parts at construction sites.
Maneuver and anchor large sheet metal parts.
Fasten seams or joints by welding, bolting, riveting, or soldering.
Erika L: I enjoy working for Accurate because of co-workers. They are some of the most trustworthy and hardworking people I know, everyone truly does everything in their power to do right by the customer to make suer they've had an enjoyable experience with Accurate. We work hard, but also enjoy each other's company and add in some shenanigans from time to time, they are my family away from home. I'm very proud to be a part of the Accurate Team!
Michelle J: My job consists of working with lots of great people. Working in the Residential Install department allows me to assist the salespeople in making our customers "comfortable", whether it's because they need heat or they need cooling. Although trying to keep 3 Sales guys in line can be a struggle at times, every day consists of something different. I am blessed to have co-workers that make me also feel comfortable at my workplace. While my family has had some health struggles these last few years, my Accurate family has been right by our side assisting any way that they can. I could not ask for a better place to work. "We are not a TEAM because we work together, we are a TEAM because we respect, trust and care for each other."
Scott S: Well, I would like to start by saying that I have never worked for a company with the culture that Accurate has. Here at Accurate I truly feel as if I am part of a larger family. I have never seen owners of a company take such pride in striving all the time to be "Employer of Choice"! I really feel connected to my team as we continue to work within this family and its culture. From my first interview with Tom White until today he is constantly reminding us that he "works for us" and I absolutely feel that here at Accurate. Its not hard to find a job in todays world, but finding a job where you feel as if you matter and the people around you feel like family, that's why I enjoy working at Accurate.
Heather W: I came to work for Accurate because it was a good job, but from my 1st interview, I knew I was going to get so much more than I ever anticipated. This company is the most caring, for both employees & customers, that I've ever worked with. They genuinely have the best intentions for everyone. My family is the most important thing in my life, and no I'm so proud to be a part of Accurate and have this wonderful work family also. That's Why I chose to work for Accurate.
Damon M: I was in the group that Accurate bought out from AB commercial division. However, I stayed with the company because of the family aspect and how they work with their employees. I enjoy working with Accurate Heating & Cooling because of the team I work with. We work together like a family to help our customers. I also enjoy how this team takes care of one another. The management at Accurate supports us with any issues at work or home. That's Why I choose to work for Accurate.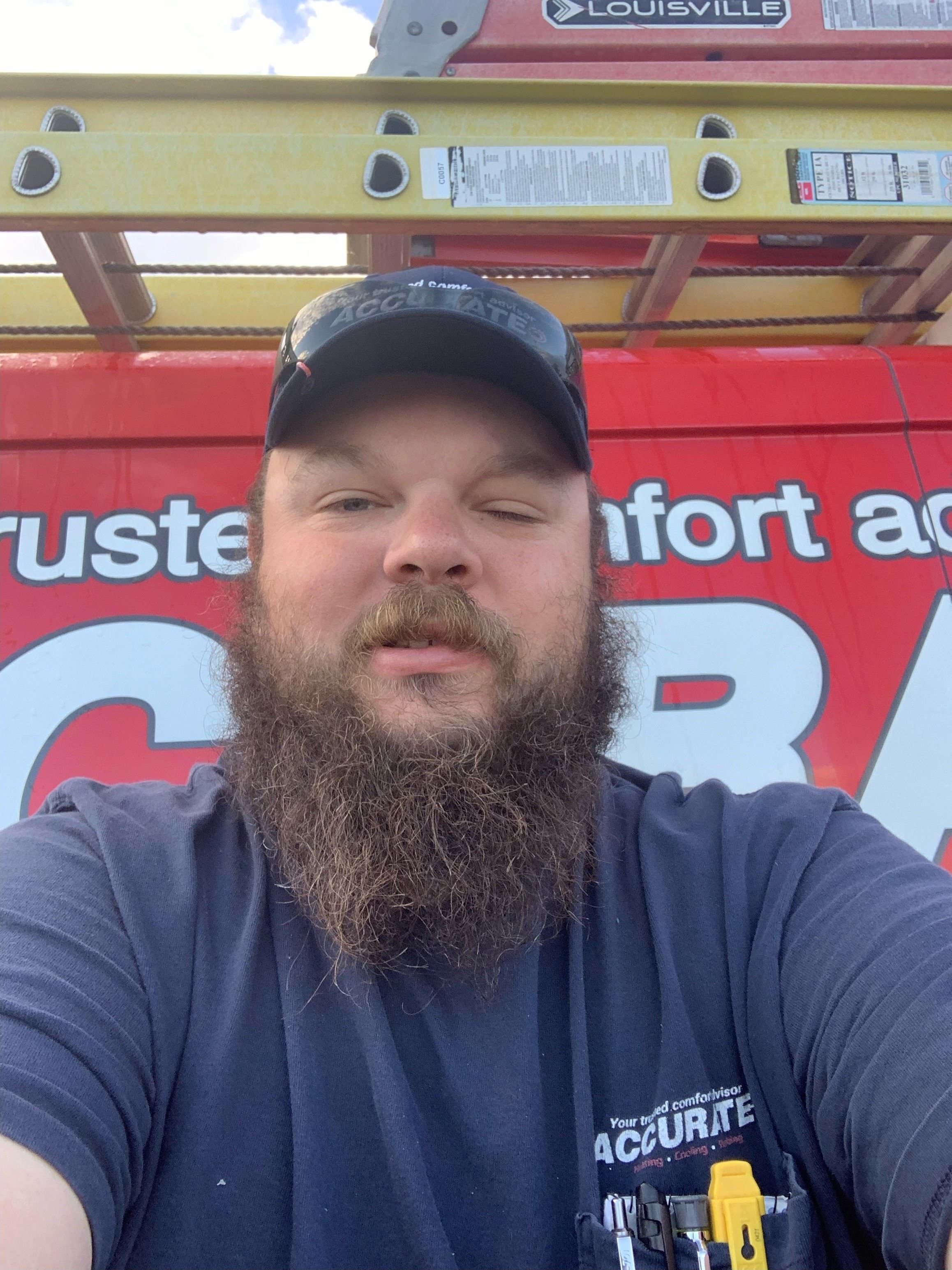 The Team to Trust
WHY CHOOSE US?
Multi-Disciplines

Sales & Service
HVAC & Plumbing
Residential & Commercial

We Make It Right

We believe in delivering honest value and ensuring customer satisfaction.

Integrity

Christian faith-based company aiming to operate ethically and above reproach.